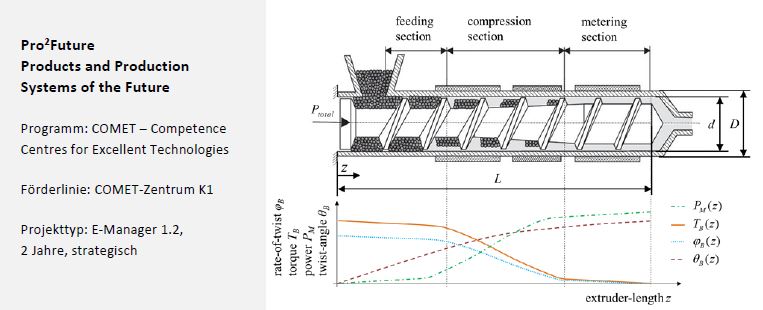 NOVEL MEASURING METHOD ENABLES TO DETECT AXIAL DISTRIBUTION OF MECHANICAL ENERGY INPUT ALONG A SINGLE-SCREW EXTRUDER
Global annual plastic production reached approximately 370 million tons for 2020 (statista.com) – more than a third of which is processed by using extrusion machines.
Depending on the processing, between 37% and 48% of the energy demand is provided by the extruder. Approximately 80% of this energy is introduced in the form of mechanical energy due to the rotating screw. This mechanical energy input is mainly dependent on screw geometry and design of the extruder and strongly influences the total energy consumption as well as the quality of the extruded plastic.
Researchers at Pro²Future have succeeded in developing a novel measurement approach to identify how much mechanical energy is introduced at which axial extruder position. The measuring principle is based on the deformation of the extruder cylinder due to the energy input, which is detected by laser beam deflection using a mirror system.
All Success Stories available via Research > COMET SUCCESS STORIES.